Memorial Day is near, and that means so is the first day of summer! Bringing friends family, and even fur companions together, laughing, playing games, and making memories is the best start to the warmer weather. There is also the food!
It's great time to honor those who have fallen by spending time with family and reflecting on all we have to be grateful for.
Host the perfect barbecue with your loved ones by planning ahead for the time, food, and activities.
Plan Ahead
Check the weather to make sure it is going to be sunny and nice out so you know if you will be celebrating inside or outdoors. Next get in touch with friends and family over. This also allows for others to make arrangements with their schedules and carpooling. Once you get a head count you can plan ahead how much food will be prepared.
Food
Make your list of what type of food you need to get.
There are tons of options when it comes to barbecue foods.
Overall you need a meat, veggies, salad, and a few sides.
Some suggestions for meats: ribs, hand burgers, hot dogs, salmon, and pulled pork.
For veggies: corn, string beans, peppers, beans, potatoes or cauliflower.
For the salad you can stick to a veggie salad with lettuce, tomatoes, cucumbers, and carrots. You can also make a pasta salad, potato salad, or macaroni salad.
Games
Everyone, from kids to the adults, loves to play games. Games allow for some fun competition and time for bonding. Set up some volleyball, corn hole, kick ball, bocci or even baseball in your yard!
For those that would rather observe than play, it's still fun to watch and cheer on your friends and family!
If you're a huge barbecue lover, the Nissan Smokin TITAN finished making its four stop road trip! The Nissan Smokin' Titan debuted at the 2018 World Truck Show in March. It is the world's first integrated in-truck-bed smoker and mobile kitchen!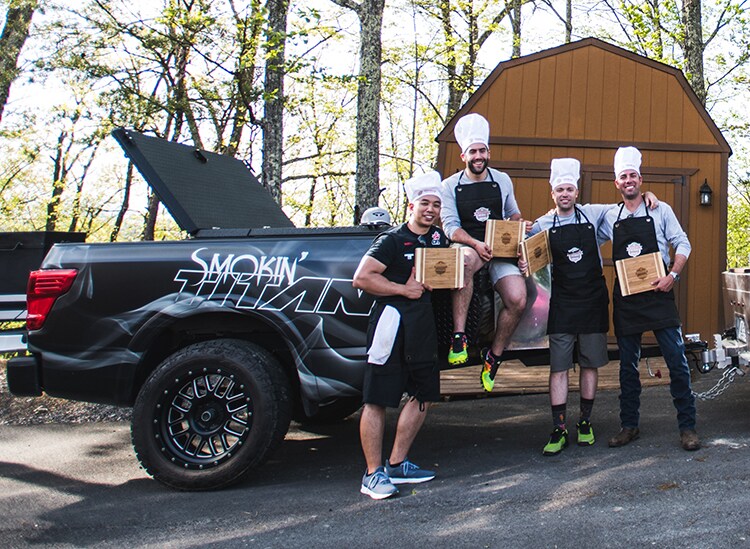 The universe's first in-truck-bed-smoker is made its way to Pigeon Forge, Tennessee. This truck is perfect for tailgates and barbecues! The Smokin Titan started in Idaho City and went to Denver, then Kansas City, St. Louis, and Memphis.
Team Nissan won six of the seven awards in the barbecue event! Read more here !