Here at Nissan, we love adventure from off-roading to camping to fishing. We love going on all kinds of adventures outdoors! We always need a car that can handle these adventures!
The Overland Expo West will unveil the second generation Nissan Armanda. Nissan is seeking assistance from its drivers to vote on three concepts for the final decision.
The Nissan Armada Mountain Patrol is following the Nissan Titan XD PRO-4X "Project Basecamp".
The Project Basecamp was a Nissan Titan D Pro-4X that was designed for exploration of the backcountry. It made its debut at the 2017 Overland Expo. It featured a 3-inch lift kit, bed cage, stargazer tent, light bar, and 35 inch tires on a Nissan Titan.
This Mountain Patrol concept is for those who seek exploration no matter the terrain or climate. This vehicle is for the off-roading, outdoor enthusiast who enjoys off-roading while keeping comfort for on road driving.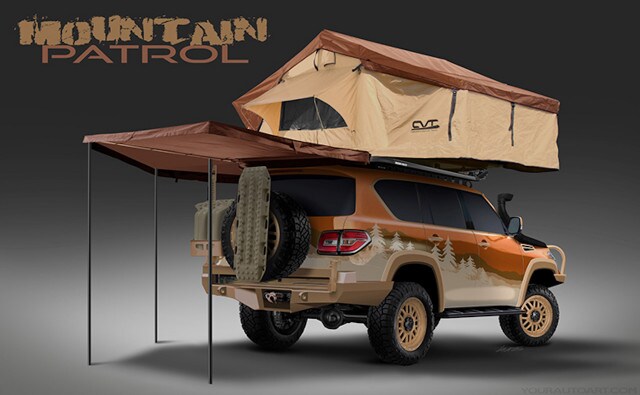 The Mountain Patrol is a 2018 Nissan Armada with a V8 engine, 390-horsepower for 4-wheel drive, and 7-speed automatic transmission. The Nissan Armada is able to tow 8,500 pounds while seating up to 8. The Nissan Armada has multi-terrain chops.
The three options to vote on include tire model, exterior design (vinyl wrap) and roof mounted tent. Once the vote is final the Nissan Mountain Patrol will travel to various events throughout the country.
While we are waiting on the final vote for the Mountain Patrol concept, the 2018 Nissan Armanda is ready for anything!
The 2018 Nissan Armada seats 8 people, can tow 8,500 pounds, and can reach 390 horsepower. It comes in two models the SV and SL, four versions.
The Nissan Armanda SV has 18 inch aluminum-alloy wheels, LED low-beam headlights, and the NissanConnect® with navigation.
The Nissan Armada SL has all of the SV features with 20 inch machine- finished aluminum alloy wheels, power lifgate, and remote engine start system to name some of the upgraded features.
The intelligent rear view mirror allows for improved safety and confidence while adding the convenience of turning the camera off.
For passengers there is spacious seating as well as distinctive lighting. Be sure to check out our inventory for our current models!